Original. Traditional. Passionate. Fun.
Rootsy Acoustic Americana Folk
********** 
Welcome 
********** 
Be sure to check the schedule for upcoming dates
Click the "What's New" Tab for our latest news letter
*********
Over 390,000 Views!
You did it! The Michigan Girl Video posted to Youtube by Terri Pippin-Grannis of Zellie's Opry House has reached over 400,000 views! Thanks to Terri and to all the fans that have shared the video with their friends all over the world.
Buy the CD or download the song here: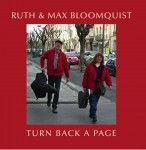 *********
"…veritable folk music legends in Michigan, captivating audiences with their songs, their harmonies and their folk-infused charm." John Sinkevics, The Grand Rapids Press
*********
Ruth's award winning abilities as a songwriter and singer are accented by Max's harmony and touch on the upright bass . With influences of folk, bluegrass, and country, they have created a heart touching, audience pleasing acoustic Americana that is all their own. Ruth's trademark rich alto is unmistakable, and her songs evoke images and emotions common to us all.