OCTOBER?! Already? Well, September did go by quickly. Time flies when you're having fun. The Michigan Irish Music Festival in Muskegon was a blast. Check out our YouTube channel at https://www.youtube.com/playlistlist=PLR_1YE_kxgiYaD30ugz2ZH0QBnRthk39u to see videos of Ruth in the round with other songwriters there.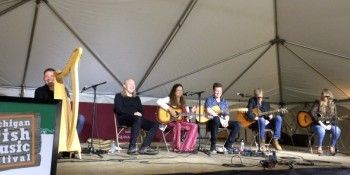 Then a weekend in Illinois rushed by with a show at Two Way Street in Downers Grove and a concert at the Dickson Mounds State Museum near Lewistown. To end the month, we played a concert to benefit the food pantry and baby pantry/reading room back in Michigan at Trinity Lutheran Church in New Era. We are so lucky!
And the good luck continues. October 3 has us in a special concert on the USS LST 393 in Muskegon. If you haven't been, this is a good excuse to take a look at this cool floating museum that honors veterans.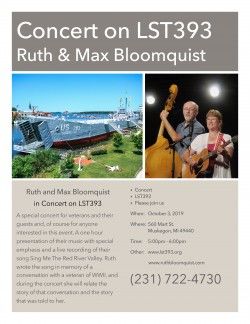 October 13 has us in concert at the West Bethesda Presbyterian Church in Montpelier, Ohio. It's a return trip for us there and we're really looking forward to it. October 18 puts us in Orion, Michigan for LIVE! From The Living Room. It's a great long-running concert series that you need to check out. October 19 has us providing music for the Sunday morning gathering of C3 - West Michigan's Spiritual Connection, an inclusive spiritual community that offers resources to enrich and empower the lives of all people in body, mind and spirit. For us, it'll be worth the commute back across the state to play for these kind people. THEN from October 23 through October 27 it's the annual FARM Conference. (That's Folk Alliance Region Midwest.) Starting with an open to the public pre-view of a few of the attending artists (including us!) it runs through the entire weekend with work shops (we get to help present one), networking, showcasing (we have several opportunities), jamming, and just making friends with others in the Folk community. We always look forward to it. What a great way to lead up to the end of the month! Details are at www.ruthbloomquist.com/schedule. 
Thanks for reading. Thanks for being there. We couldn't do it without you! Ruth and Max